Music
Ligia Loretta recorded in autumn 2015, together with nine wonderful musicians (see below), her debut album: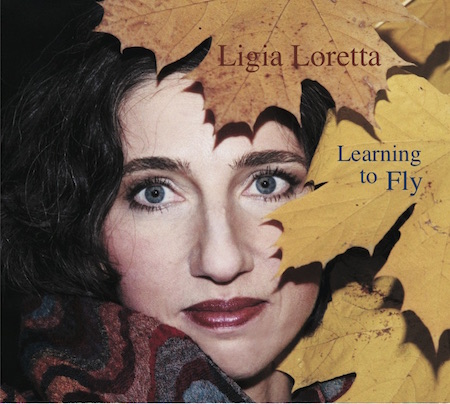 Emmanuel Maze - accordion and accordina,
Thorsten Zimmermann - double bass and e-bass,
Ewald Oberleitner - double bass, triangle, headless tambourine, and percussion,
Reinhard Grube - sax, flute, and clarinet,
Berndt Luef - vibraphone,
Roland Wesp - piano and keys,
Stefan Oser- guitar,
Axel Mayer - trumpet,
Edison Tadeu Da Silva - shaker and rebolo
Ligia Loretta - vocals, all music and all lyrics, claves, a little bit of percussion and special effects,
all recorded, mixed and mastered by Fritz Jerey at hizz records

The album "Ligia Loretta - Learning to Fly" consists of 13 of the songs that I have written during the last 14 years.

"Each song is a real pearl, polished with a lot of refinement, sensibility and grace. Splendid, original melodies that reflect musical experience and exceptional talent. (...) The very beautiful lyrics bring the listener into a world of a sublime nature, embraced by so much feeling, so much love. Actually, everything is under the sign of the love towards everything that falls under the incidence of human cognition. (...)"

(Ion Matasaru, composer, musicologist, songwriter)

"Es sind Lieder, die sich ins Gedächtnis einprägen, von denen man sich tragen lassen kann wie ein Vogel vom Wind."

(Christian Teissl, Dichter, Literaturhistoriker)

Here are fragments of some of the songs:
Can We Just Be Friends?
Aripi noi (New Wings)
Sandschloss
Love in the Forest Light
Melon Song
Parfum
In a New Flat
Buy Me a Red Rose
Fractals
Dare
This page is under construction.